Have you ever made your own yogurt?
(FYI, it's Random-Questions-and-Ramblings-from-Dana day here at the ol' bloggeroo.)
(picture from Kitchenstewardship.com)
I haven't but I'm really interested in trying it.
I just read all about it
here
and was VERY excited to read about making it in the crock pot
here
.
I'm on this kick right now of making stuff yourself. Actually, that's always a kick I'm on.
I aspire to DIY everything that is somewhat interesting to me. It's all about the thrill! The bragging rights! The (sometimes) satisfaction! The personalized, cutesy, artsy touches! The savings! The
freedom
!
(I like me some freedom, now)
For instance, I recently found this site that I have developed a major crush on. Actually, an emotional, needy, high school girl obesession, if you want to know the truth.
(Thank God I have a husband who will come pry my clawed, stuck fingers away from the mouse. I think he just wants to eat.)
(Does anyone remember the one when Chandler played Ms. Pac-Man so long he had the "claw hand"? Just wondering.)
So, my crush's name is
Young House Love
(no you can't have it...it's mine and I
neeeeed
it!), and it belongs to a young couple who bought a small house and completely re-did the whole thing themselves. It is so cute and charming, I could pee myself.
Here's a small peek into a guest bathroom they did.
You should see the "before" picture.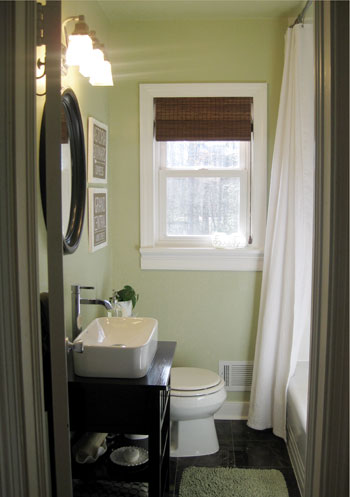 The table the sink is on used to be a night stand.
ahmygah.
Anyway, this post actually has nothing to do with them. I'm just ga-ga.
Recently, PW's Tasty Kitchen blog featured a
post
on making your own ingredients. It spoke to me. Now, she apparently live in the Town of Middleonowhere where the nearest grocery store is miles and miles away... so this especially makes sense for her.
But I am trying to tighten up on my grocery budget, and have two small children whom I dearly love, but prefer to take nowhere unless unlimited childcare, snacks, train rides and coffee are involved....so this makes sense for me too.
They have instructions for how to make oodles of stuff yourself from baking mixes to sour cream to taco seasonings to brown sugar to...wait for it....
Nutella
.
(and Kahlua. not that I noticed.)


So, you dirty, little DIY-ers, here's another question for you:


What do you make yourself (doesn't have to be food-related)
that has completely changed your life forever?


Or has just been really helpful and worth doing again?




And just for fun, I think I'll take a little poll. I've been wanting to do that for awhile now.


It'll be somewhere around here (not sure how to do it yet), so make sure you add your vote!


Can't wait to hear your two cents!